EHEIM invents "smart feeding"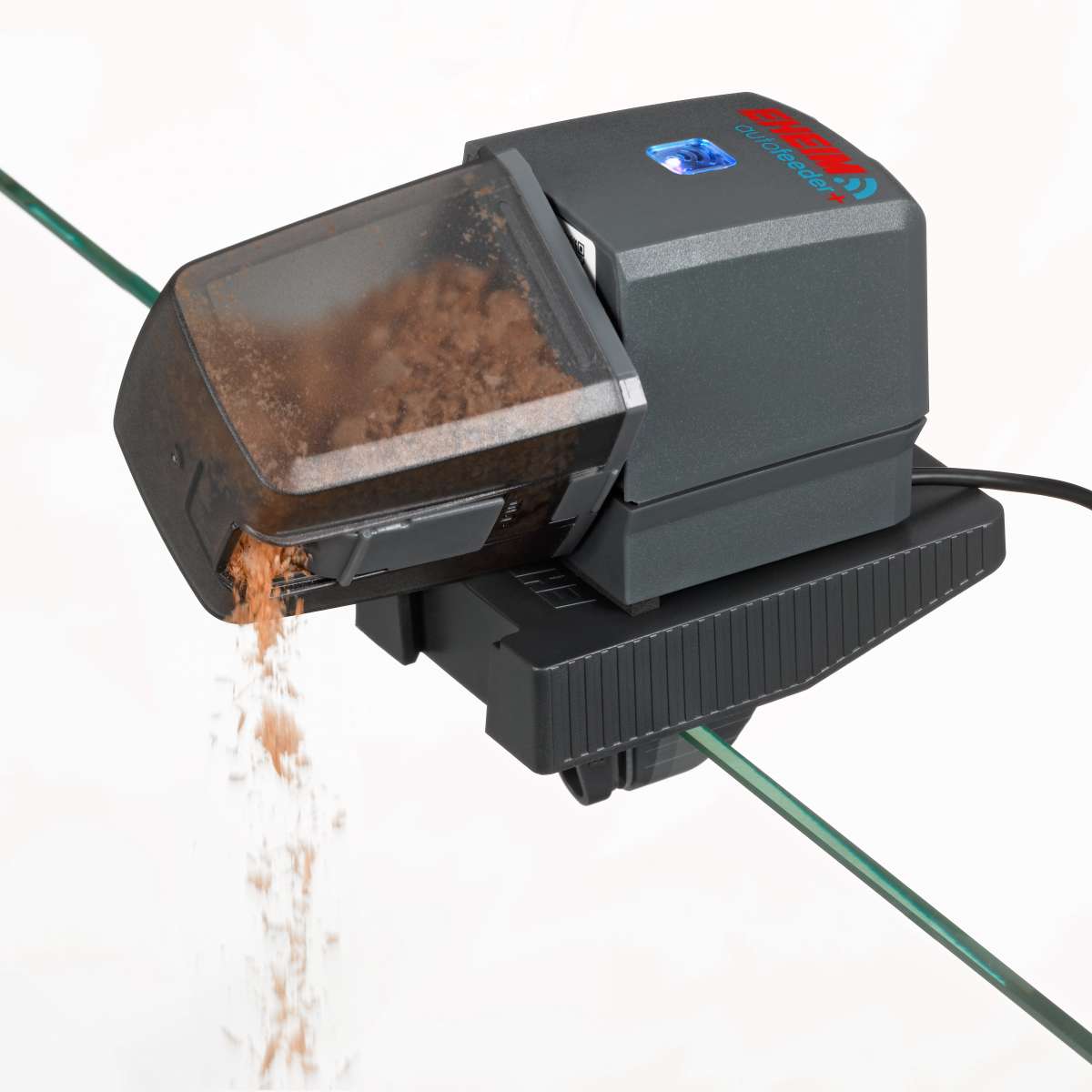 Deizisau, november 2021 – Aquarium enthusiasts who want to care for their fish can now do so remotely: simply via a smart phone, tablet, or PC.

Following the digital lighting control, LEDcontrol+, and the intelligent external filter (professionel 5e), EHEIM has now also launched a smart automatic feeder. The EHEIM autofeeder+ has an integrated WLAN function (Wi-Fi) and can be programmed and monitored via smartphone, tablet, or PC.

Feeding times and the amount of food released can be individually defined and you can even schedule a random fasting day per week. In addition, the Smart Control offers some monitoring. For example, you can check the current filling level of the feed drum at any time and even get a prediction of the range of the remaining feed quantity. If the quantity falls below 30%, an e-mail is sent to you; in addition, an email is sent as soon when the feed drum is empty.

You can also "smart link" with the other devices in the EHEIM WiFi family. For example, the speed of the professionel 5e can be reduced or increased for a few minutes during feeding. And when the filter is not running - e.g. during water changes or maintenance work – you can program the feeder so that it stops automatically.

You can also activate overfill protection to prevent accidental overdosing. And with the new type of slider on the feed drum it's possible, for example, to supply fish (and even fry) with very small amounts of food.

No app needs to be installed to use the smart functions of the new EHEIM autofeeder+ and it can integrate into a home WLAN network, allowing various EHEIM Wi-Fi devices to synchronise and work together in different tanks, in different groups and rooms!
+ Read more
Aquarium and garden pond: EHEIMs new pond range build on their aquarium success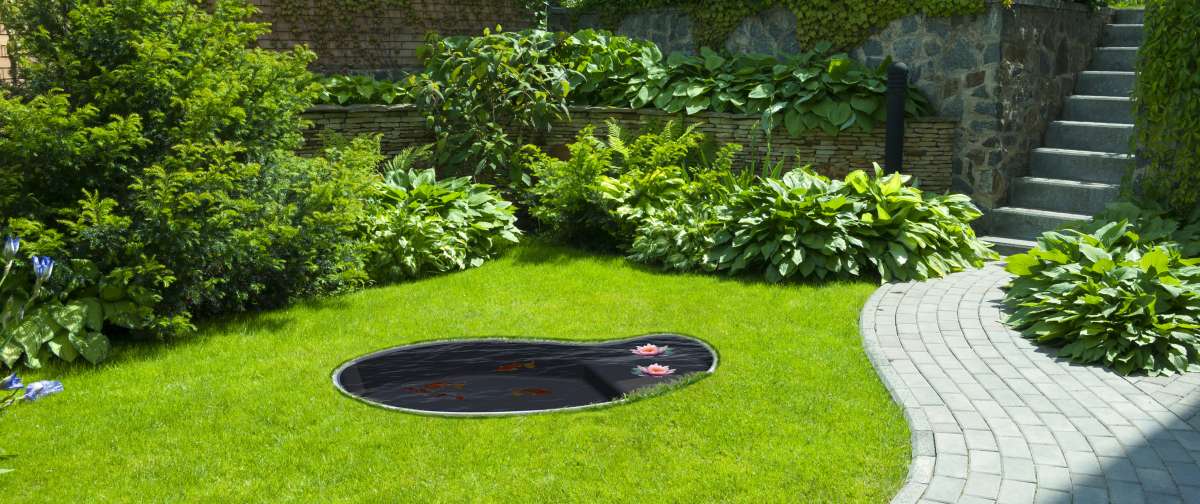 Deizisau, august 2021 – For the aquatics pioneer EHEIM, pond products have become an ever-expanding business area in recent years.

Since EHEIM invented the aquarium suction filter in the 1960s, revolutionising aquarium technology in the process, the ornamental fish aquarium has become a hobby for millions worldwide. The market continues to grow and with its complex range of products and forward-looking innovations, EHEIM is now one of the famous international companies in the pet market.

A product line for the garden pond sector was released in 1985 but was not expanded until 2016. In that year, EHEIM fully re-entered the pond market, again demonstrating its outstanding expertise in water treatment solutions. Decades of experience and sound know-how are reflected in the range of pumps, filter systems and other pond equipment available to customers.

However, pond products are not only sold through pet shops (where EHEIM is a well-known aquarium brand) but also through garden centres and DIY stores. This meant that EHEIM needed to re-evaluate the distribution channels for this market.

Over time, the company has nurtured this distribution channel and has continued to expand its pond range. The range now includes everything customers need to set up and operate a garden pond: From pond pumps and filters to UVC clarifiers, pond aerators, sludge extractors and ice preventers. There is even a high-pressure cleaner!

Also, for those who don't have a garden, there is a creative raised-level pond, a small biotope: the terrace pond.

There are also four smaller prefabricated ponds (also called pre-formed ponds or pools) which are 150, 300, 500 and 800 litres in size: these are known as EHEIM LAKE. These ponds are made of robust, recyclable ABS plastic and have naturally curved basic shapes with several pond zones. They are user-friendly alternatives to a standard pond (which needs a pond liner) and can be quickly and easily installed in a garden.

These prefabricated ponds complete the product range and allow retailers to present a complete EHEIM package to those interested in garden ponds. This means customers benefit from the excellent image of the brand, the high quality of the products, the decades of experience, as well as the reliability of the supplies and services which are known far beyond the aquatics sector.

The fact that EHEIM has revived its garden pond range has been welcomed in specialist markets. As customers trend towards ponds more and more, the demand for quality products is rising. This is where EHEIM, with its decades of experience, quality product development and innovative approaches to technology is set to shine.
+ Read more
EHEIM is "on the ball" with VfB Stuttgart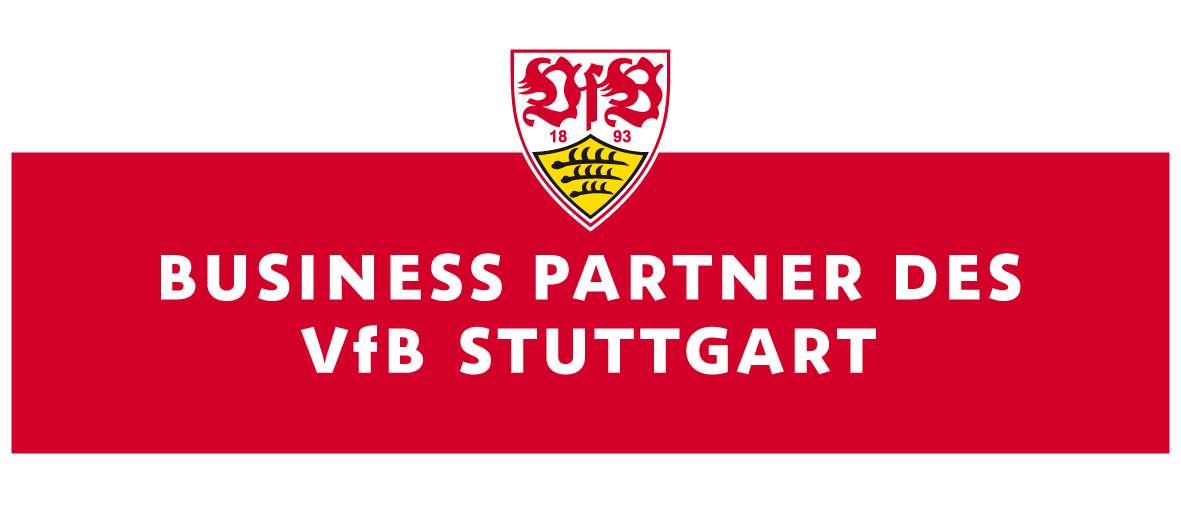 Deizisau, June 2021 – For the first time in its more than 70-year history, the aquarium pioneer EHEIM will appear on perimeter advertising in a Bundesliga stadium and thus reach a broad audience of millions during television broadcasts.

"We are one of the world's leading companies in aquatics and one of the best-known suppliers in the pet market but we are hardly known to the general public. That is about to change. The perimeter advertising in Stuttgart's Mercedes-Benz Arena is just the first step," said EHEIM Managing Director Ibrahim Mefire Kouotou.

The advertising partnership with the Bundesliga and five-time German champions VfB Stuttgart is an ideal fit as EHEIM is one of the region's hidden champions. The engineer Gunther Eheim founded the company in 1949 in Esslingen, a few kilometres from the VfB Club Centre. Initially, he produced technical toys there, including a fountain for model railway installations and a centrifugal pump with magnetic coupling (that was the first to be waterproof). The idea of combining this special centrifugal pump with a cleaning tank eventually led to the development of the first suction filter for aquariums.

With this filter, the aquarium water could be cleaned automatically for the first time. This finally made it possible for people to keep exotic fish. In 1963, the first filter system went into series production and since then ornamental fish aquariums have become a hobby for many millions worldwide. A huge market.

Today, EHEIM exports to around 70 countries worldwide and has its headquarters in Deizisau, near Stuttgart, as well as offices in other locations and subsidiaries in Europe and Asia. The product range includes aquariums, aquarium combinations and modern aquarium technology for freshwater and marine aquariums. It also includes internal and external filters, filter media, UV clarifiers, pumps, skimmers, aquarium lighting, heaters, automatic feeders, accessories for treatment and cleaning as well as pond products.

In the aquatics market today, EHEIM is not only known as the pioneer and inventor of the aquarium filter but also as one of the leading suppliers in many areas of the pet market as well as a driver of technology and innovation.

The business partnership with VfB has initially been agreed for the 2021/22 Bundesliga season - i.e. from the 1st of July 2021 to the 30th of June 2022. This includes perimeter advertising, with two static advertising spaces in the TV-on area. Both the fans and visitors, who will hopefully soon be allowed back into the stadium, will notice the EHEIM name, as well as the broad general public (who will see it through television broadcasts). Due to the worldwide popularity of the Bundesliga, EHEIM also expects high international visibility which will include millions of aquarium and garden pond owners. In addition, the trade - from pet shops to DIY stores and garden centres - is likely to receive a boost in sales.

This starts an exciting new chapter in the history of the EHEIM brand. One that will make sure that more people are aware of EHEIM, their products and their values than ever before.
+ Read more
Product of the Year 2020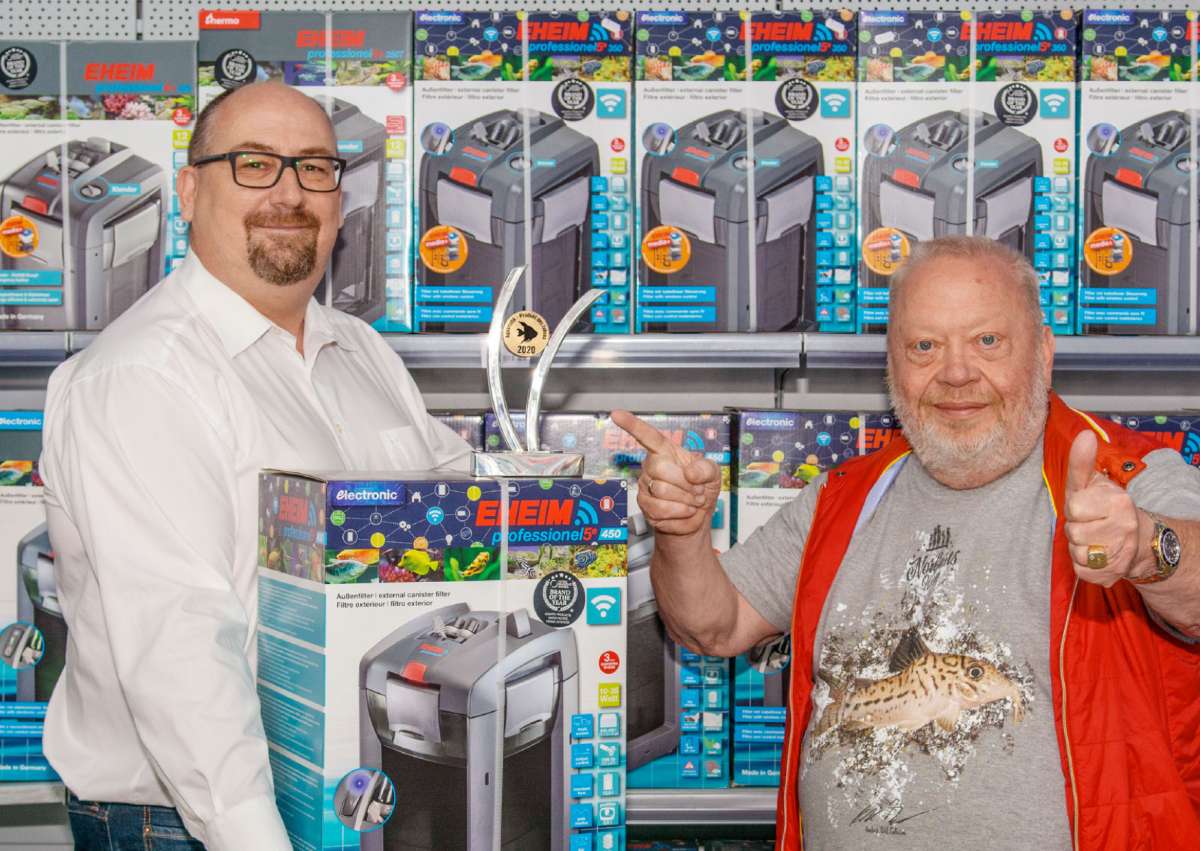 Deizisau, December 2020 – Zoo Zajac, the world's largest pet shop, has awarded the EHEIM professionel 5e external aquarium filter as the "Product of the Year 2020".

With over 12,000 square metres, Zoo Zajac in Duisburg-Neumühl has been confirmed as the largest pet shop in the world by the Guinness Book of Records. The retail space includes over 1000 aquariums, 70 pond tanks, 500 terrariums, 40 aviaries, a cat complex, 150 small mammal enclosures and the most modern dog area in Europe. The almost 700-page catalogue for 2021 has just been published and can be ordered at www.zajac.de.

In the catalogue, the EHEIM professionel 5e is presented in the aquatics category as "Product of the Year 2020". The criteria for the award are: The product should make the hobby easier and more attractive. The price-performance ratio must be right. The product must be available for delivery so that there are no annoying waiting times for the customer. It must have proven itself in the corresponding year, i.e. there were no complaints or problems and queries were handled well.

According to Zoo Zajac, the new EHEIM professionel 5e has fulfilled these criteria and fully convinced them. It is an intelligent aquarium filter with integrated WLAN function and can be individually programmed and controlled wirelessly via smartphone, tablet or PC/MAC. The electronics monitor everything so an extra app is not required.

Advantages include: The electronics keep the water flow constant. Malfunctions are automatically corrected, air accumulations are diverted and much more. The degree of contamination is also constantly checked, and if cleaning is necessary, a message is automatically sent to the e-mail address stored by the fish keeper.

The settings of the new filter can be freely determined. You can choose between constant flow, bio mode, pulse mode and manual mode. In constant mode, the electronics automatically adjust to the set output. In bio mode, two alternating flow rates (day/night) can be set. In pulse mode, the electronics ensure changing and thus natural flow conditions. Linking with other devices - e.g. a corresponding lighting control system - is also possible.

There are four professionel 5e models for aquariums from 180 to 700 litres, including a thermofilter (600T) with integrated heater.
+ Read more
EHEIM managing director Ibrahim Mefire Kouotou voted manager of the year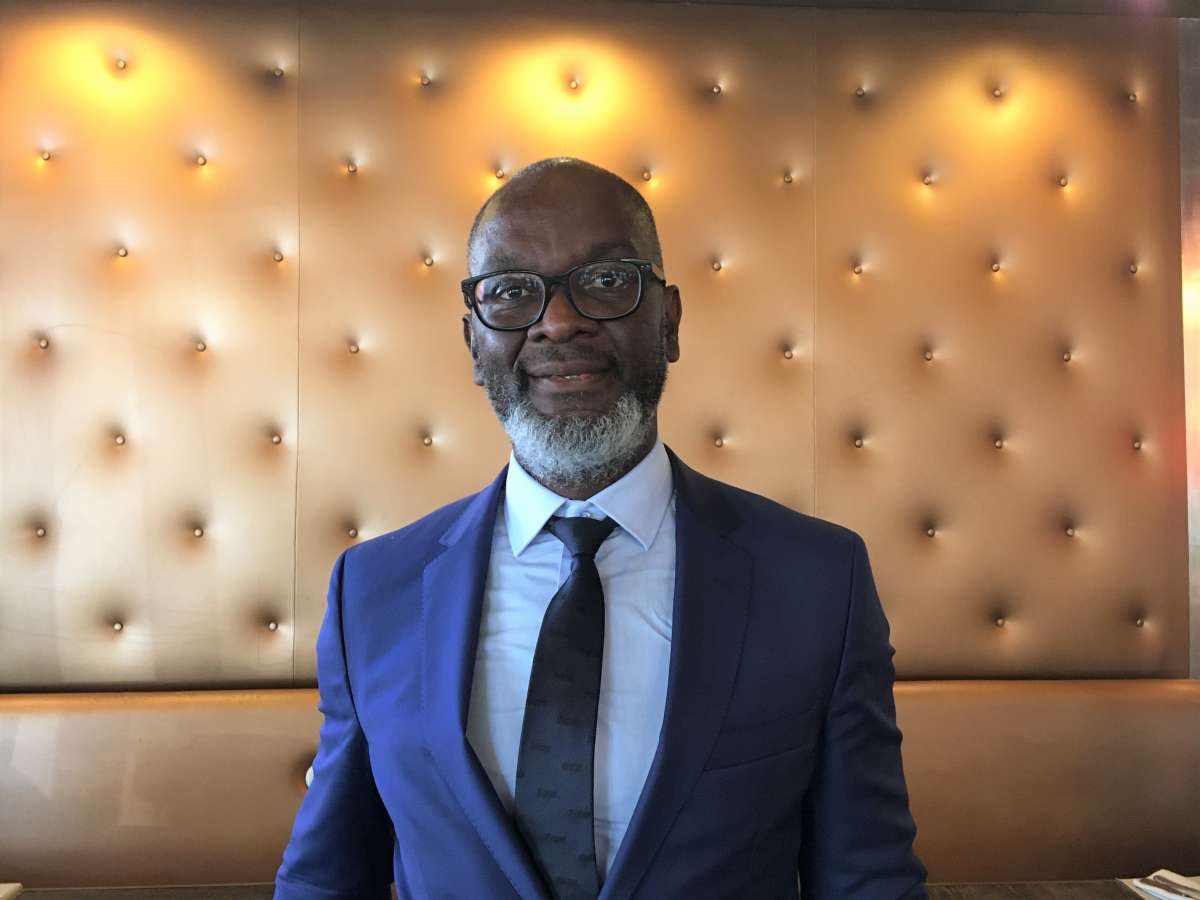 Deizisau, October 2020 – The French trade publication "Animal Distribution Magazine" crowned the managing director of the EHEIM Group as the manager of the year in its annual poll.

The "Animal Distribution Magazine", published by Média & Jardin – Groupe J, is the renowned trade magazine covering all animal matters in France. It is primarily aimed at dealers, sales representatives, suppliers, manufacturers etc. in the pet industry. Based on an annual poll, it also presents the coveted "Animal Challenge Awards" for various product groups in different categories. The industry's manager of the year is also selected. This year, the vote went to EHEIM managing director Ibrahim Mefire Kouotou.

The "Animal Distribution Magazine" introduced its readers to Ibrahim Mefire Kouotou in its September issue and asked him for a few statements.

Here is the article by Aurelie Bracaval:
"People come first in every decision made"
Ibrahim Mefire Kouotou joined Eheim in 2002 and has served as the company's managing director since 2016/17. He was also appointed a Senator of the German Economy in 2019. He is a down-to-earth person who supports his staff and helps them to develop their skills.

Order taking, strategy setting, management tasks as the head of product management, marketing manager... Ibrahim Mefire Kouotou studied business management and is highly experienced in each job at EHEIM. He is therefore familiar with the various problems and issues, and can identify the needs of his employees in specific situations at a very early stage.

INCREASING TEAM COMPETENCE
Since he joined the company in 2002, the teams have remained the same. However, he has recently overseen abundant improvements in the company's overall performance. Mefire Kouotou explains his management strategy in his role as managing director:

"I don't want there to be too much hierarchy within the company. I have reduced the levels within the organisation and fostered cross-functional cooperation. The employees feel more integrated within the company dynamic.

This has allowed us to increase our transparency, speed of service, creativity and the ability to quickly react to the wishes of our customers. EHEIM has succeeded in improving its overall performance by encouraging the teams to step out of their comfort zones. It is only human to be fearful of making mistakes when presented with a new situation or challenge. Fear often undermines a person's will. You have to support employees, ensure that they communicate with each other and improve their own skills. To do this, you have to take the required time.

People make mistakes. When this happens, the key is to find solutions to remedy the situation so that you can continue to make progress." He also adds: "Personally, I have always believed that hard, sustainable work pays off". I derive happiness and motivation from the results of a job well done."

MAINTAINING FAMILY INCOME DURING A PANDEMIC
In the current pandemic, Mefire Kouotou has decided not to resort to reduced work hours. He explains his reasoning for this:

"You have to stay close to people during difficult times. I decided not to implement reduced work hours provided that this would not harm the company in any way. As a result, we were able to continue with our work while observing the lockdown and the necessary social distancing measures. I asked myself: How will the staff remember these times? I did not want to reduce their salaries. They are under enough pressure to cope right now as it is and they also enjoy less freedom of movement. Families need their salaries to pay rent. In Germany, employees only receive approx. 60% of their salary when working reduced hours, while people in France receive 84%. Therefore, business carried on as normal. Employees whose work permitted it were occasionally allowed to carry out their duties from home. The EHEIM brand was therefore also available to its customers during the lockdown, consequently reinforcing the company's positive image. "

For Mefire Kouotou, people come first in every decision made. For this reason, he also attaches great value to a personal touch.

"Our credibility rests on ensuring our customers are never disappointed. Their wishes must be respected, and we need to be capable of finding requisite solutions or providing them with the information that they are looking for. The field of aquaristics remains highly technical. It is much more difficult to sell aquaristic products than rodents or pet food nowadays, yet the vendors' abilities are often not fully appreciated", says Ibrahim Mefire Kouotou.
+ Read more
A welcome tradition: EHEIM takes home two awards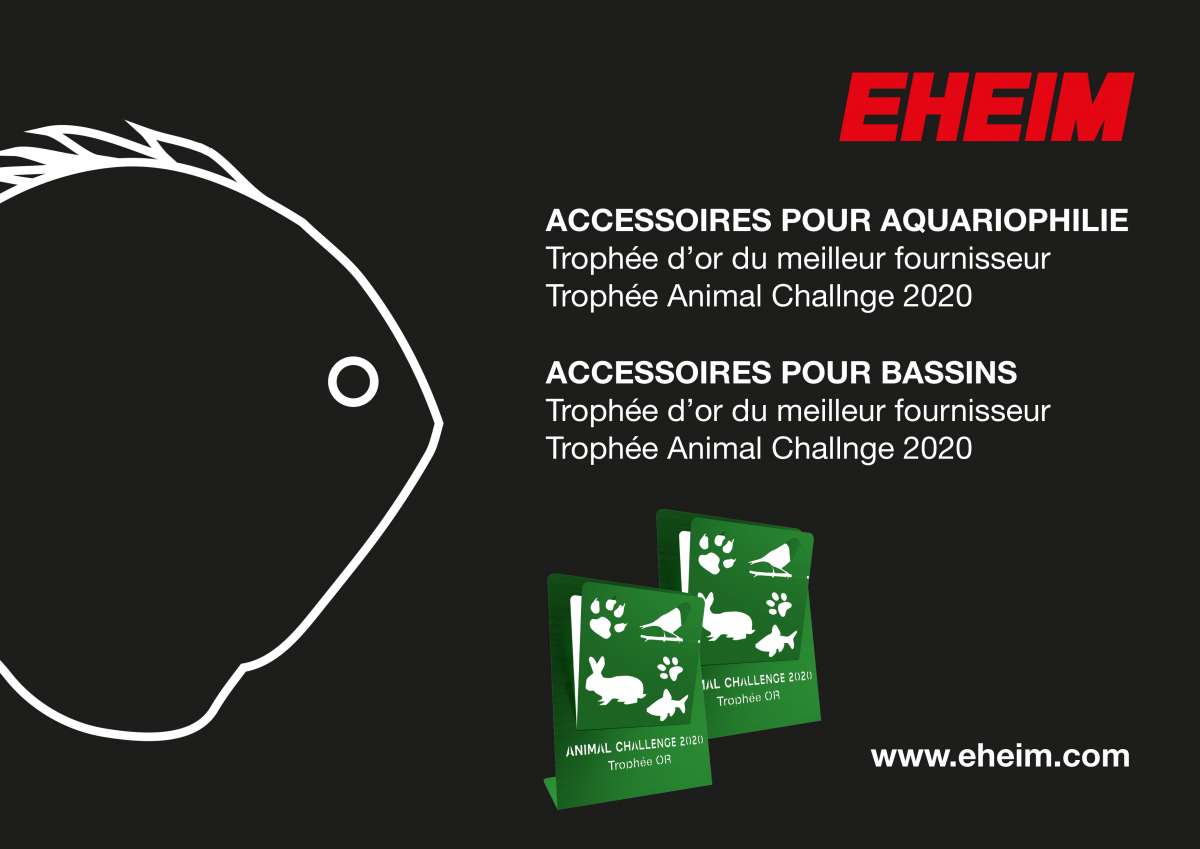 Deizisau, October 2020 – This year, the French trade publication "Animal Distribution Magazine" honoured EHEIM for the third time: on this occasion with two gold accolades for aquaristic and pond accessories.

As part of its annual "Animal Challenge" competition, the renowned French trade publication "Animal Distribution Magazine", which is published by Média & Jardin – Groupe J, presented the coveted "Animal Challenge awards" in various categories.

EHEIM received the "Trophée Coup de coeur de l'innovation" – an award that recognises innovation – for the new electronically controlled "professionel 5e" external filter.

Having already been honoured as "Best supplier of the year" in two categories in 2018 as well as receiving the "Trophée d'argent" – the silver award – for aquaristic accessories last year, EHEIM can now take home a gold award for aquaristic and pond accessories. EHEIM managing director Ibrahim Mefire Kouotou was also voted manager of the year.

In an article entitled "Moving the lines", the Animal Distribution Magazine recognises the company's achievements as follows:

Through the development of innovations and intelligent solutions, EHEIM concentrates on moving the lines in order to continue its success on the market, both in France and internationally.

It took the company just a few years to develop an extremely positive dynamic. Its employees are more motivated than ever and are committed to filling a gap in the aquaristics market.

This applies in particular to France, which has a comparatively much greater number of fish and aquariums than Germany, which is where the company's headquarters are located. EHEIM saw this as an opportunity to increase its business in France.

On the path to intelligent systems
The company's growth was facilitated by technological progress and the development of innovations. The introduction of three brands into the aquarium combination range ensured all customer requirements could be met: "Vivaline" has a good price/performance ratio. "Proxima" represents the mid-range segment and "Incpiria" shows off the top class, super-premium range.

With the introduction of the "professionnel 5e" external filter this year, the company succeeded in expanding its range of electronically controlled and interconnected products within the area of aquarium technology. It is pursuing the implementation of its "EHEIM Digital" development strategy, which involves designing products in such a way to create an interactive, self-regulating aquarium environment that consequently prevents user mistakes during aquarium care. The aim is not only to make aquaristics easier for customers, but also to get them actively involved in choosing selection and control options – depending on the content of their chosen aquarium, and with the help of predefined programmes. Warning messages sent by email inform the user of filter blockages, leakages or system errors which require their intervention.

EHEIM has introduced several new products into the pond accessories segment in recent months. A sludge extractor, a high-pressure cleaner and a 60-Watt UVC clarifier. A Wi-Fi-controlled automatic feeder is also due soon. The aim of this is to enhance the product range with "intelligent systems" which ultimately provide the user with a maximum of information and records without overwhelming or discouraging them.

Roadshows with proven track records
EHEIM organises several roadshows each year to help get novices interested in aquaristics. 35 such events took place in France last year. In light of this success, EHEIM has received more than 50 event inquiries this year. And with good reason: each roadshow usually drives turnover for the aquarium sector by 5 to 6%, and by 17 to 25% for EHEIM products in particular. Even sales of fish and plants are on the rise.

The company generally aims to foster a joint dynamic with the retail market to ensure that the aquarium market does not go into decline; various trends and examples of practice observed in different countries of the world are illustrated and shared. It is naturally advantageous that the EHEIM brand is present on every continent. This year, for example, new markets were opened up in Israel, the Czech Republic, Japan, Indonesia and Malaysia.

Renowned for expertise, product quality, customer service, the availability of spare parts, and not to mention their entire product range, EHEIM is now strengthening its initiatives to help boost the aquaristics market.

Aurelie Bracaval
+ Read more
Website-Relauch
EHEIM has adapted its Internet presence to fulfil new requirements

Deizisau, August 2020 – Responsive web design, additional languages, more user-friendly spare parts and dealer shop solutions as well as premium offers at first glance ... These are the main features of the newly optimized eheim.com website.

The previous EHEIM website went online about ten years ago but in the fast-moving digital age, this is an eternity. Improvements were made again and again and many visitors were quite satisfied but both the habits and demands of the users have changed and the technologies have become more intelligent.

Basically, when you visit eheim.com, you now land on a start page that first (visually) presents the most interesting products and product ranges. From here you can access the media centre, news, advice etc. and the dealer search is also integrated right here on the homepage. The task bar at the top of the page has remained the same.

Whoever clicks on "Spare parts shop" in this task bar, will find a clearer introduction than before, arranged according to product areas. The dealer shop has also been made more user-friendly.

In addition to German and English (also Chinese and Japanese) languages, French can now also be set. Spanish will follow shortly.

Last but not least, the website is designed according to the latest state of the art responsive web design. This means: No matter which device is used to call up the website - whether it is a stationary PC, a large smart TV or a mobile device such as a tablet or smart phone, the website adapts flexibly to the various end devices in terms of size, resolution, display and operation.

The technical and creative requirements for responsive web design have only existed for a few years and is becoming more and more accepted on the German-speaking Internet. With this step, the company, from Deizisau near Stuttgart, is consistently following this path of modernization, which is not only expressed through product innovations but also finds its way into all areas of the company. This becomes clear when you follow the latest press releases from EHEIM.
+ Read more
EHEIM professionel 5e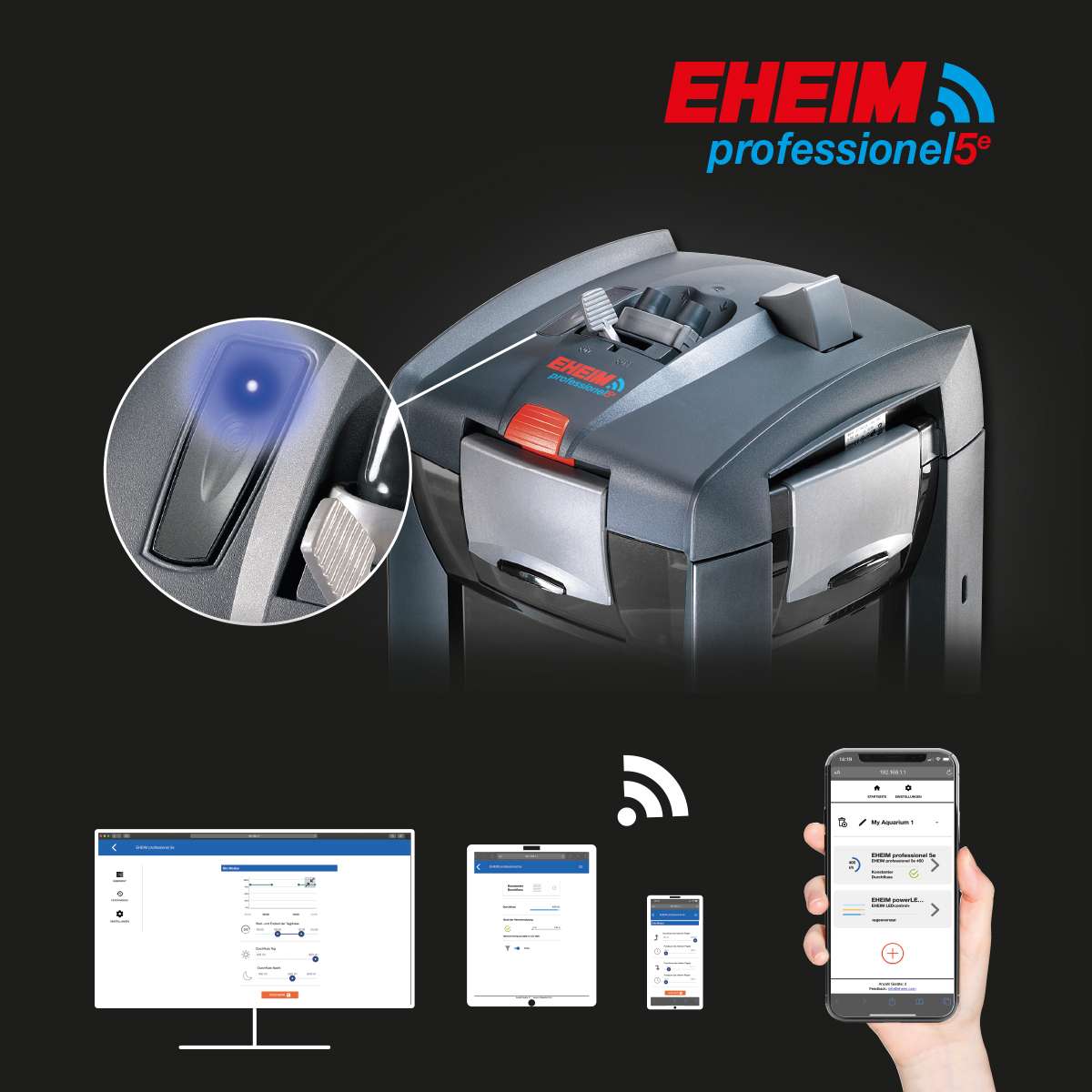 New external aquarium filter
Intelligent electronics ensure clean water in the aquarium

Deizisau, April 2020 – EHEIM has developed a new, intelligent aquarium filter that can be programmed and controlled wirelessly via smartphone, tablet or PC/MAC. The electronics monitor everything.

Aquatics is a fascinating hobby and, if you maintain your aquarium properly, you can enjoy a wonderful underwater world. This is only possible with good technology and the aquarium filter, invented by Gunther Eheim more than 60 years ago, plays one of the most important roles.

Over the years, aquarium filters have become increasingly sophisticated and technically complex. Now EHEIM has released an electronic external filter which offers everything an aquarium enthusiast could wish for. The professionel 5e, has an integrated WLAN function and can be individually programmed and controlled wirelessly – using a smartphone, tablet or PC/MAC. You do not need an extra app.

The electronics are designed to monitor all functions and keep the water flow constant. Faults are automatically corrected, air locks under the filter head are expelled and the degree of contamination is also subject to constant monitoring. The electronic flow regulation system ensures that the cleaning intervals for the biological filter material are significantly extended and, when the filter needs cleaning, a message is automatically sent to the e-mail address stored by the aquarium owner.

The functions of the new filter can be set to individual requirements. You can choose between constant flow, bio mode, pulse mode and manual mode. In constant mode, the electronics detect increasing contamination in the filter and automatically readjust to the set output. This guarantees permanently constant flow rates and long intervals between cleaning. In bio mode, two alternating flow rates (day/night) can be set and, in pulse mode, the electronics ensure a natural, alternating flow.

It is also possible to link the filter to other devices - e.g. a corresponding lighting control (EHEIM LEDcontrol+). When all programming is complete, the WLAN connection can be deactivated.

"EHEIM.digital is EHEIM's new platform for intelligent devices. Customers can look forward to future-proof and innovative products. This is only the beginning" says Ibrahim Mefire Kouotou - managing director for EHEIM.

There are four professionel 5e models for aquariums from 180 to 700 litres, including a thermofilter (600T) with integrated heater. Three models are suitable for both freshwater and marine but the thermofilter is suitable for freshwater only.
+ Read more
CIPS exhibition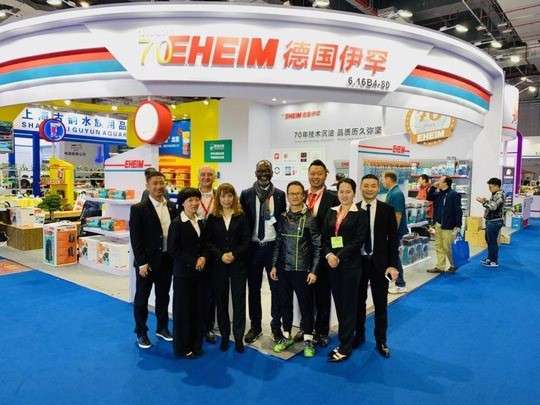 EHEIM represented at the China International Pet Show (CIPS) in Shanghai

Deizisau, November 2019 This year, from the 20th to the 23rd of November, EHEIM was represented at the largest trade fair for pet and aquarium supplies in the Asia-Pacific region.

As one of the world's leading suppliers in the aquatics market and with exports to over 60 countries, it is important for EHEIM to attend the China International Pet Show (CIPS). For the pet industry, the fair is the largest and most efficient platform for developing the Chinese and Asian markets and beyond.

Almost everything for the pet market was presented at the CIPS in Shanghai - from equipment for small animals and aquatics to animal care products and medicines for pets of all kinds. This year, 1,500 international exhibitors were present on 130,000 m² of exhibition space with thousands of visitors attending from all over the world.

The EHEIM booth, located in hall 6.1, 6B4-80, was in partnership with a Chinese wholesaler but the presentation was typically EHEIM. Many customers from the Asia-Pacific region had announced their visit, as well as customers from Europe and the USA, resulting in an interesting global exchange of information.

In order to promote this exchange of information and ideas, EHEIM invited their customers to attend an evening at the international dinner, where customers were presented with current activities, strategies and new products.
+ Read more
Plus X Award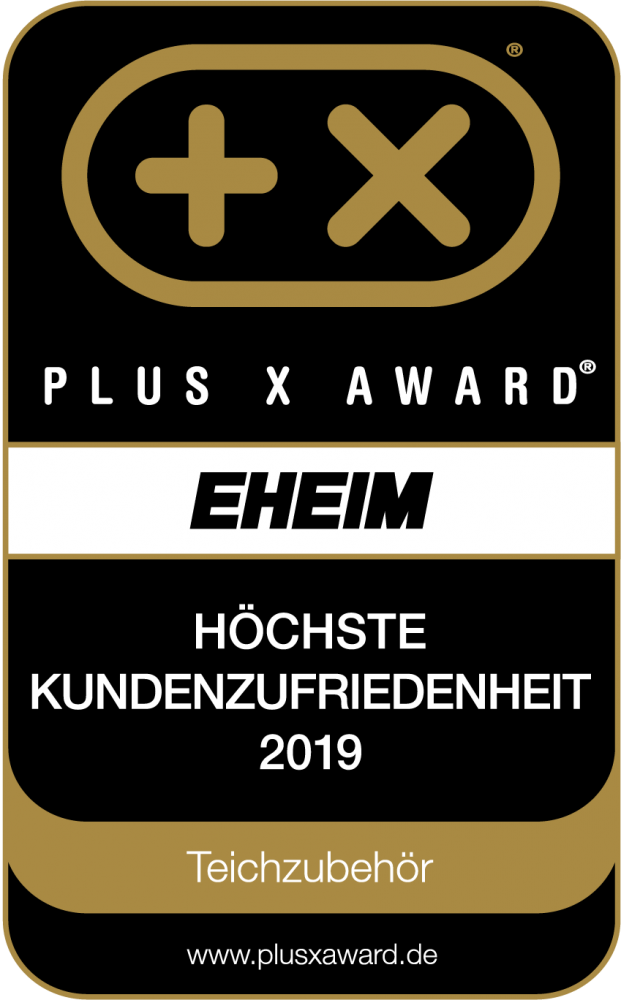 Deizisau, November 2019 – In a survey conducted by the German Institute for Product and Market Evaluation, EHEIM achieved the highest customer satisfaction for pond accessories and was awarded the Plus X Award.
In Spring, Focus Money and Deutschland Test awarded EHEIM the 'customer favourite' award as one of the most popular brands in Germany. Shortly afterwards, the company received the "Trophée d'argent" from the French Animal Distribution Magazine for their aquatic accessories followed by the renowned "World Branding Award" as "Brand of the Year". Now EHEIM have achieved the "highest customer satisfaction" for their pond accessories and have been awarded the "Plus X Award". The pond accessories include a variety of pumps, filters, UVC clarifiers, pond aerators, sludge extractors (pond vac) and pond heaters.
The "Plus X Award" has been in existence for sixteen years and is regularly presented to the best brands and products in the world. It is considered the largest international innovation award for technology, sports and lifestyle products that have at least one "Plus X" factor. The Plus X Award offers seven seals of quality for Innovation, High Quality, Design, Ease of Operation, Functionality, Ergonomics and Ecology as well as selected special awards including the "Highest Customer Satisfaction" category.

Customer satisfaction is determined by two questions: How reliable is a brand promise and how satisfied are Germans with a brand after the purchase? In July 2019, the German Institute for Product and Market Evaluation launched a major survey on this subject and, in order to achieve a neutral opinion, men and women aged 20 to 65 from all federal states across the country were asked which brands and products they were particularly satisfied with. The pollsters evaluated 3147 valid votes and identified those manufacturers who, from the consumers' point of view, keep their promises by offering high-quality products and an exceptionally satisfactory service.

A total of 73 brands received awards this year. The categories cover the most diverse industries and product groups from e-bikes, smartphones, watches, fashion, cosmetics and many more - including pond accessories. EHEIM has received the Plus X Award for "Highest customer satisfaction" in this category.

"This award confirms, once again, that our own claim of offering the best quality and reliability is endorsed by our customers and that we, as one of the world's most significant aquatics suppliers, also set standards in the garden pond sector with the quality label 'Made in Germany'", says EHEIM Managing Director Ibrahim Mefire Kouotou.
+ Read more
EHEIM - Made in Germany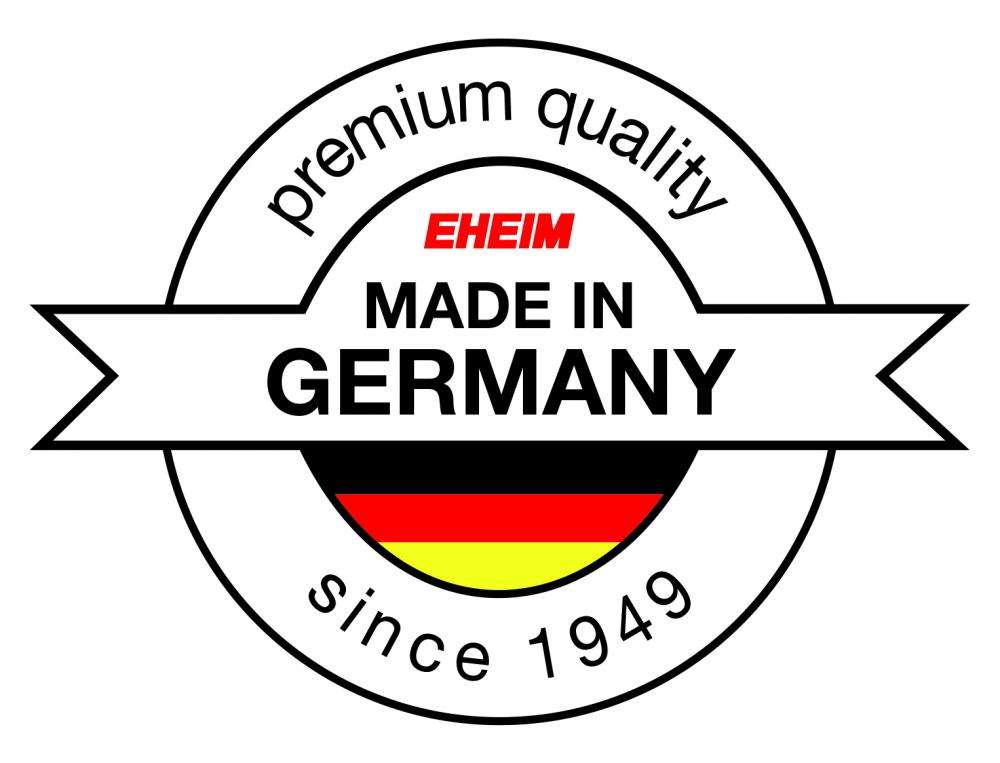 Made in Germany
Commitment to high quality and sustainability

Deizisau, August 2019 – In connection with the company's 70th anniversary, EHEIM reaffirms its commitment to quality and its international reputation under the banner "Made in Germany".

EHEIM, developed 70 years ago from humble beginnings, is now the world's leading manufacturer of external aquarium filters. Today, the company group is probably the best known supplier of aquariums, aquarium technology, equipment and accessories. The EHEIM name has become an international brand generally synonymous with high quality. The standard "Made in Germany" also plays an important role.

In 1887, the British decided that German products had to bear their country of origin because they pushed inferior imitations onto the British market but, with time, German products improved significantly and "Made in Germany" finally developed into a quality symbol with the highest reputation in the world. This is still true today.

The legal prerequisite for the "Made in Germany" label is that essential parts of the manufacturing process - such as development, design, production and quality assurance - take place in Germany.

Over 80% of all EHEIM products are fully developed and manufactured in Germany. A small percentage of products are developed and manufactured in other EU countries, but every detail is meticulously examined and monitored in Germany where EHEIM guarantees the best materials, skill and precision. The official warranty is generally valid for 2 to 3 years with a 10 year spare part availability guarantee.

The EHEIM professionel 4+ external filter is a typical example of "Made in Germany". It offers cutting-edge technology for the most demanding requirements and is developed and manufactured in-house, from the injection moulded parts to the coil and various switches. Only a few components are bought in to be adapted and built into the assembled filter. There are final inspections and safety tests (CE, VDE, GS, EAC, etc.) to ensure only fully functional products leave the factory.

The label "Made in Germany" not only contributes to customer satisfaction, but also to sustainability as the products are designed for reliability, functionality and optimum safety, ensuring a long service life. There are also constant improvements in terms of energy efficiency and, with EHEIM at the forefront, new products with higher efficiency and lower power consumption are constantly being introduced into the market. Digital controls optimize performance and for aquarium lighting, for example, only energy-saving LED light is used. Environmental friendliness and sustainability also play a major role in the production itself as only the highest quality, clean materials are used. There is very little waste at our production facilities as we aim to recycle all surplus materials.

The environmental agency, Grüner Punkt, recently re-certified EHEIM because of their considerable savings in energy, resources and emissions. There is also the issue of safety: safety is one of the most important criteria, especially for electrical products such as filters, pumps, etc. that come into contact with water and also for aquariums, due to their size and weight. EHEIM guarantees absolute reliability.

Our objective to always offer our customers the best, has made EHEIM one of the most important suppliers of aquariums and upholds the quality standard "Made in Germany" all over the world. Recently, EHEIM once again won the "World Branding Award" as Brand of the Year.
+ Read more
Senate of the German Economy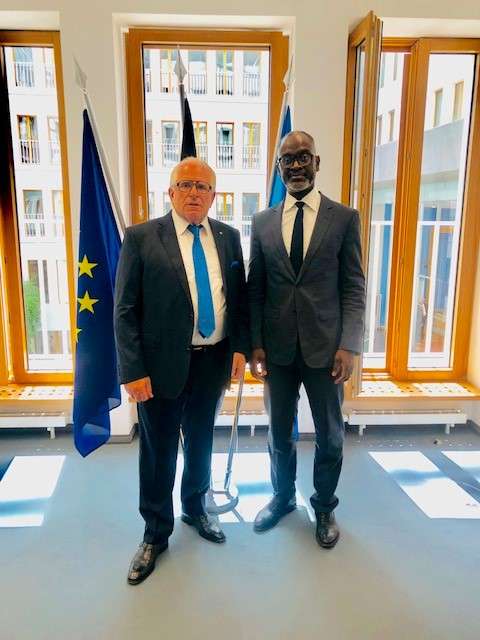 EHEIM Managing Director Ibrahim Mefire Kouotou has been appointed to the Senate of Economy
On July 1st, 2019 Ibrahim Mefire Kouotou became a Senator in the Senate of the German Economy. The appointment was presented by Honorary General Consul Dieter Härthe in the Bundespressehaus, Berlin
The Senate of the Economy is a select circle of individuals from business, science and society who are particularly aware of their responsibility towards the state and society. Together they contribute to the implementation of the common good goals of sustainability, with regard to an ecosocial market economy at national and international level.

Many experts from different disciplines are initiators and honorary senators, e.g. Jean-Claude Juncker, Prof. Dr. Jürgen Rüttgers as well as scientists, business leaders and politicians across all party lines. They underpin the Senate's objectives.

These goals also include "... ecological sustainability for the preservation of people, nature and the environment for future generations; economic sustainability for the creation of sustainable fundamentals for acquisition and prosperity; social sustainability with regard to a future-proof, livable society that enables the fair participation of all its members ...", as stated in the statutes.

The ethical principles of the Senate shall also form the basis and guideline for the economic actions of the members of the Senate. Fairness and partnership in business life as well as the social competence of entrepreneurs and executives, characterise the work of the Senate.

"I am delighted to have been appointed to the Senate of Economy and see it as an honour and special distinction for our company and my work," said Mefire Kouotou after the award ceremony. "I fully share the values and goals and will do my utmost to achieve them wherever I can."

Deizisau, July 2019
+ Read more